Who offers the cheapest shipping? USPS, FedEx or UPS?
At some point in our lives we have all found ourselves ready to ship something only to find out it's going to cost five times as much as you had guessed. Nobody likes being caught by surprise, especially when you need something to be delivered quickly.
So this handy guide will hopefully save you a little bit of sanity when it comes time for you to decide where to go for your shipping needs. Rarely is there one answer that fits all of your needs because you have to take into account the destination, how fast you need it delivered, the package size and weight. Needless to say if you have an item that needs packaging material for you will have to factor that on top of the shipping cost.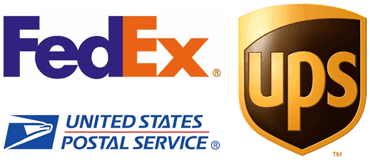 All shipping costs are determined by destination, type of address (residential, commercial, PO Box, etc.), weight, size of the package(s), desired delivery speed and value of the content of the shipment.
US Postal services are recommended for light weight packages weighing less than 2 lbs. shipped especially to a residential address.
US Post Office is the cheapest way to ship non-bulky items. They offer Flat Rate Priority for documents and merchandise, with 2 to 3 day delivery to almost all domestic locations, and free Flat Rate envelopes and standard-sized Flat Rate boxes (small, medium & large). This includes free tracking and $50 coverage against loss or damage in transit.
UPS and FedEx Ground services (1 to 5 business days) are the best shipping options for domestic oversized and/or heavy packages (up to 150 lbs.) particularly when shipping to commercial locations.
FedEx offers the most reliable overnight and 2-day domestic shipping service. (No PO Box addresses)
International: US Postal airmail service is the best value for lightweight documents and packages (up to 4 lbs.) For expedited shipments we recommend FedEx, UPS or DHL.
US Postal Services (Priority and Priority Express) are the best options for boxes up to 70 lbs. (to most countries) that are not time sensitive. Unlike UPS, FedEx and DHL that charge based on the dimensional weight, US Post Office charges are based on the actual weight of packages
Conclusion
Finding the right shipping carrier for all of your shipping needs will vary based on your shipping goals. That's why the best shipping solution is at a shipping store that offers multiple carrier choices and is able to give you better pricing because they do volume. You will also be able to find a large variety of packing material that is more affordable then you will typically get at the major carriers if they even have what you need in stock. So no longer do you need to drive around or figure out which carrier has a center near you when you have an all-in-one solution like Mail and More in California.